Welcome!
Welcome to Rhode Island Recognition sm !
HOLIDAY GIFT GIVING SEASON IS FAST APPROACHING
* FREE * Sport Pack Bag with ANY Customized Order thru OCT 2016
For 24 YEARS we are the 'GO TO SOURCE' to leading RI/New England firms with customized products utilized for Recognition Awards, Incentive programs, Promotion, and Branding purposes.
Take advantage of our in house fabrication, sourcing of hard to find items, and years of product knowledge.
CORE PRODUCT GROUPINGS = Recognition Awards/Promo Products/Corp Apparel/Photo Gifts/Displays
www.RIRecognition.com
We are very service oriented - we get the job done - correctly, on time, within budget, and without 'worry'. Our line is extensive, browse our website for great ideas,contact us directly, or visit our showroom in Cranston, RI. Various techniques utilized for customization: Printing-Engraving-Embroidery-Digital.
Featured Item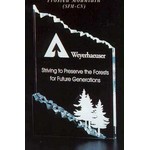 Sculptured Frosted Mountain™ Awards (1...
Acrylic plaque with a traditional black acrylic accent or gold or blue mirror accents, featuring classic sculptured edges. 6 3/4" W x 10 1/4" L
$72.55 - $85.99