Welcome!
* NOTE - RESTRICTED SHOWROOM HOURS - (precaution) - due to the COVID-19 VIRUS affecting the nation. We are operational but may limit showroom accessibility for the time being.
CALL or EMail us for details, ordering, or arranging receiving goods.
401.941.9200 info@RIRecognition.com
''Promote your organization and Recognize employees.''
Critical factors in the continued success of your business goals.
For 27 YEARS we are the 'GO TO SOURCE' for Rhode Island and firms thru out New England for customized products - utilized for Recognition, Promotion & Branding, and Incentive programs.
Take advantage of our selective in house fabrication, sourcing of hard to find items, and years of product knowledge.
CORE PRODUCT GROUPINGS
Recognition Awards, Promo Products, Corp Apparel, Photo Gifts,
Signage-Displays.
We are service oriented - we get the job done - correctly, on time, and without 'worry'. Our line is extensive, browse our website, use the 'search' bar and type in a keyword, contact us directly, or visit our showroom in Cranston, RI.
Customization: Printing-Engraving-Embroidery-Digital.
Featured Item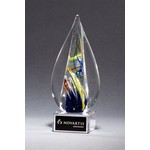 Colorful Flame-Shaped Art Glass Award wi...
Colorful flame-shaped art glass award on clear glass base. A vibrant and contemporary award that will complement any office, showroom or lobby. Our black and silver engraving plate will accommodate yo...
$53.72 - $55.44